Podcast Episode #74:
Axiology Influencers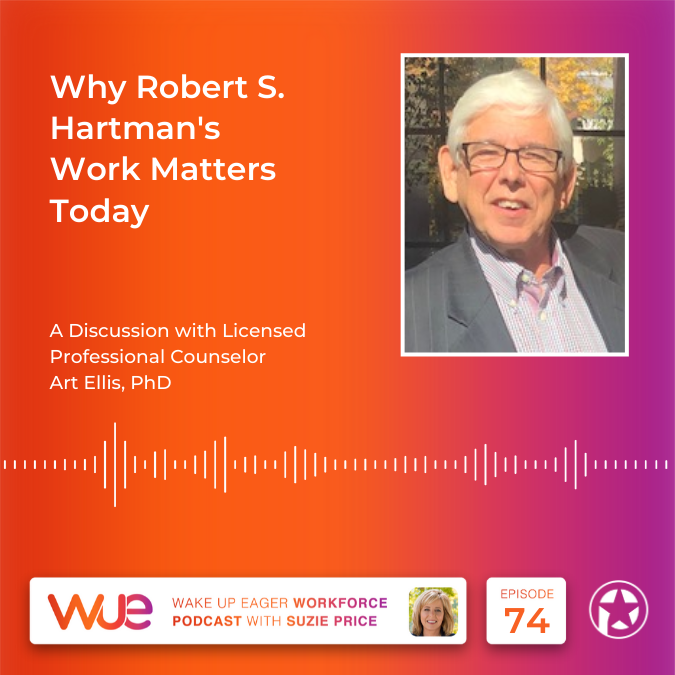 Overview of Episode #74 --- 
Learn about Axiology and Robert S. Hartman through someone who studied under and was coached by Hartman, and how and why it was a life changing experience. 

See how relevant Axiology is to the entire world today: In making good value decisions, overcoming addiction, living better, profit sharing, international relations and around nuclear war. 

Be inspired has you learn more about Art's Wake Up Eager life. 
Contact Art Ellis
Email: 

ffancies@earthlink.net
Timing on Recording: @ 12:01 ---
Topic 1: How Did You Become Aware of Hartman's Work? Why Did You Spend Part of Your Life Committed to His Work in Various Ways?
Timing on Recording: @ 15:43 ---
Topic 2: What Struck You About the Hartman Value Profile? 
Timing on Recording: @ 20:09 ---
Topic 3: About the Publishing of Hartman's Work.
Timing on Recording: @ 22:30 ---
Topic 4: How Would You Describe Dr. Robert S. Hartman?
Timing on Recording: @ 30:18 ---
Topic 5: How is Hartman's Work Relevant Today?
Timing on Recording: @ 36:24 ---
Topic 6: How Have You Used Hartman's Work? How Have You Applied It Formally Or Informally?
Timing on Recording: @ 40:41 ---
Topic 7: How Would You Describe Axiology to Someone Who Doesn't Know Anything About It? What is Some of the Language You Use?
Timing on Recording: @ 56:15 ---
Topic 8: Getting to Know Art Ellis.
Information Shared in the Podcast:
Other contact information:
Subscribe via iTunes or Leave a Review

Links, Books and Podcasts Mentioned in This Episode: 
Get a complimentary audio book and support this podcast by using my affiliate link:
Get a Free Audio Book with 30-day Trial
Check out our NEW Priceless Professional Development Bookstore
Related Podcasts:
Podcast #18 Demystifying & Understanding TriMetrix
Related Services:

Become the Expert: Assessment Certification Training
TriMetrix Expert Analyst Certification and Training   

Schedule a Complimentary Consulting Call or Send Us Feedback:
Contact Suzie
STAY IN TOUCH: Are you a leader, trainer or consultant focused on building a Wake Up Eager Workforce?  Subscribe to this Podcast Here. You can also sign up for monthly email updates, here. Thank you for being a part of the Wake Up Eager Workforce Podcast!!