Podcast Episode #58:
Change How you Think, Act & Work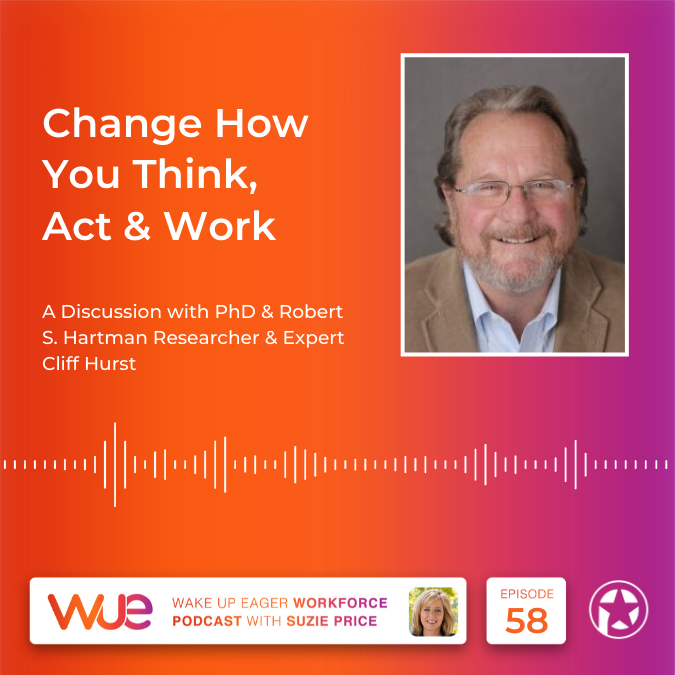 Overview of Episode #58 --- 
How Robert S. Hartman's work provides a moral foundation; better understanding of the depth and breadth of Hartman's work.

     

The two ways the Science of Axiology helps us know, grow, choose and give more of ourselves.

Gain insights, books, tips and inspiration about living on purpose.
Contact Cliff Hurst:
Timing on Recording: @ 11:10  ---
Topic 1: Welcome Dr. Clifford Hurst; Talk About Robert S. Hartman's Work, How You Came Across It and Why You Are Committed to Sharing it With Others:
In 2002, TTI introduced me to the Hartman Value Profile, the assessment was very accurate.

When I started using the Hartman Value Profile, I thought it was magic, it's like the mass just melted away and people got very real, very quickly.

 

I started using the assessment but did not know where the information came from, I thought, "I better learn more about where this came from."

I wanted to become a more theoretically grounded consultant.

Hartman was to me a polymath, someone who knows a whole lot about a lot of things. And I look back at my own career and I look at a lot of people who are using the instrument as consultants. If the only thing you're doing is the instrument, you're leaving a lot of richness off the table because Hartman was so thoughtful about so many different things that the theory of Formal Axiology is much richer than the instrument itself.

The stuff started by Robert S. Hartman in 1958 has created $7 trillion of personal wealth in America, and most people don't know that came from Hartman.
Timing on Recording: @ 20:18  ---
Topic 2: How Would You Explain to Someone How this Science Lends Itself to so Many Disciplines?:
It is the Science of Value of Morals.

 

Let's say a business is only about making money, but it should be about the human good, and the good of everyone involved in that, the science reframes a lot.

Book: From the Neck Up by 

Stephen Byrum.

Today's young people more than anything else don't want just a job when they graduate, they want to find meaning in their own lives and they want to make a difference in the world through their work. I believe Hartman's theory allows us to honor that ambition.

Balance of systemic, extrinsic and intrinsic.

Hartman's theory provides a balanced perspective to your cognitive habits and provides a moral foundation to what we ought to be doing in the world.
Timing on Recording: @ 30:54 ---

Topic 3: Two gifts that the Hartman Value Profile Gives People:
One: It gives you the ability to bring to conscious awareness all patterns that you've had held subconsciously, these things that we don't know about how we think.

What are your habitual realities? Without the Hartman Value Profile, we don't know what our habitual thought patterns are.

Two: It brings to conscious awareness are called cognitive horizons, how far can you think, what are the limits of your cognitive processes? It gives us a language with which to understand it.

All understanding is linguistic; we can't process stuff if we don't have a language with which to process it.
Timing on Recording: @ 33:21  ---

Topic 4: Other Ways Hartman's Work Has Impacted Your Life:
Hartman, "There are only four steps to a successful life. Number one, know yourself. Two, choose yourself. Three, grow yourself. And four, give yourself to something greater than you."

My mission is to help my students to know themselves, choose themselves and give yourself to something greater than you.
Timing on Recording: @ 34:27  ---

Topic 5: What Would You Say Was Most Challenging For You Along the Way on this Journey to Where You Are Today?:
Timing on Recording: @ 49:33  ---

Topic 6: Are There Additional Books or Training Programs That Have Been Instrumental in Your Developments?:
Timing on Recording: @ 50:55  ---

Topic 7: When You Think of the Word Successful, Who's the First Person That Comes to Mind?:
Timing on Recording: @ 52:23  ---

Topic 8: What Do You Do Regularly to Create Your Own Wake Up Eager Days in Mind, Body and Spirit?:
Mind: Reading an hour a day enriches my mind.

Body: Have lost 20 pounds so far, halfway to my goal. Book: Wheat Belly

Spirit: My wife, My spiritual practice Self-realization Fellowship (Yoga), My hobby: Spoon carving.
Timing on Recording: @ 59:45  ---

Topic 9: Getting to Know Dr. Clifford Hurst:
A funny story your family tells about you: 5 year-old, "Nobody likes stupid people."

Advice you would give you 25 year-old self: 

"Be yourself, everyone else is taken." Oscar Wilde

If you could have a billboard anywhere, what would it say?: "The two most important days in your life for the day you were born in the day you figured out why." Mark Twain

Last bit of wisdom, advice that you want everybody who's listening to take away: 

Remember those four steps to a successful life; Be yourself, choose yourself, grow yourself, and give yourself to something more important than you.

 
Books Mentioned in the Podcast:
68thUnited Nations Civil Society Conference: Link Here
Contact Cliff Hurst: http://cliffordhurst.com/
Hartman Conference Link: https://www.hartmaninstitute.org/2019-annual-conference
Conference Overview Flier: https://www.hartmaninstitute.org/assets/docs/2019ConferenceDetails.pdf
PRICELESS RESOURCES
PODCAST: Subscribe to our Podcast or Help Us and Leave a Review 
NEWSLETTER: Sign up for Monthly Email Updates 
PODCAST: Most Recent Episodes      Directory of All Episodes 
RELATED DEVELOPMENT SERVICES:
·    Certification: Become the Expert: Assessment Certification Training
·    Hiring: Hiring: Secret to Superior Performance
·    Surveys: 360 Feedback and Organizational Surveys
·    Complimentary Consulting Call or Send Us Feedback: Contact Suzie