Podcast Episode #60:
8 Core Practices of Facilitative Leaders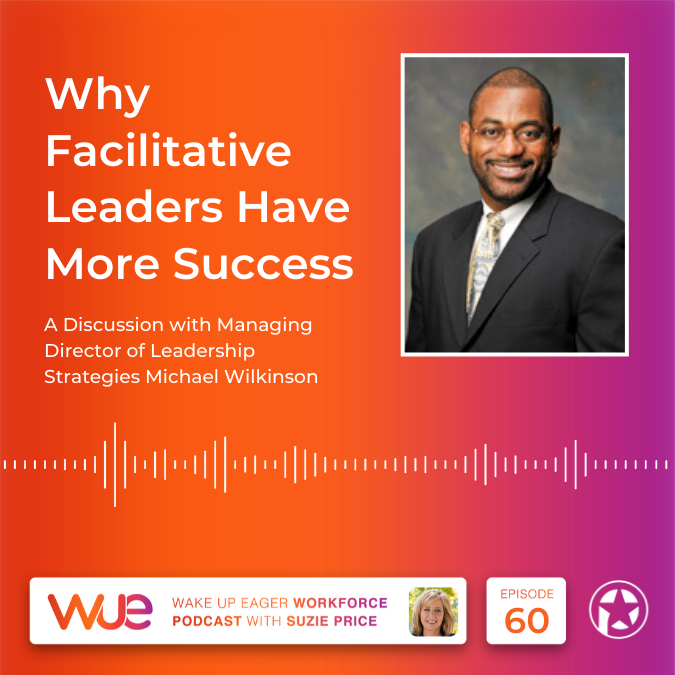 Overview of Episode #60 --- 
What facilitative leadership is, why it matters to TAFA.

Why encouraging disagreement is good and understanding the reasons for conflict and strategies for working with each.

An actionable tip that will help you inspire and lead better immediately.

Why being a meeting snob is a good thing – and how to become one!

What the formula: ED = RD X CD means and why you want to use it.

Learn about the different "people" inside of Michael, his journey and more…
Contact Michael Wilkinson

Timing on Recording: @ 9:53  ---
Topic 1: Welcome Michael Wilkinson; What is Facilitative Leadership and Why Does it Matter Today More Than Ever Before?
Great leaders recognize their role is to make it easy for their people to be effective.

A facilitative leader, they understand the core concept of addressing the problem.

A facilitative approach means getting the people who are going to be impacted by the decision involved in creating the decision.

If we get other people involved in decision-making we are going to have a better decision.

Even if your input isn't taken, you had a chance to share and understand why the decisions were made.

Leaders need to understand that disagreement isn't bad. In fact, disagreement is good.
Timing on Recording: @ 16:00  ---
Topic 2: Three Reasons People Disagree.
 

Lack of shared information.

Disagreement about values and experiences.

Personality, past history or other outside factors.
Timing on Recording: @ 23:09 ---

Topic 3: Eight Core Practices of Facilitative Leaders.
Start with the why, engage with the how.

Understand and empower.

Communicate in their language, not yours.

Connect first, correct second.

Equip for success, monitor for results.

Engage conflict, encourage disagreement.

Drive strategic thinking throughout the organization.

Start, execute and close every meeting masterfully.
Timing on Recording: @ 42:01  ---

Topic 4: Five Cs of Trust: The Trust Triangle.
Competence.

Communication.

Commitment.

Care about you.

Character.
Timing on Recording: @ 46:30  ---

Topic 5: Three Types of Behavior Issues.
Awareness.

Skill building.

Will issue.
Timing on Recording: @ 48:33  ---

Topic 6: How to Start, Execute and Close Every Meeting Masterfully.
Who are the participants?

What process are you going to use?

What products do you want to come out of the meeting?

What is the purpose?
Timing on Recording: @ 58:24  ---

Topic 7: Who Has Most Influenced You in Your Life? 
Timing on Recording: @ 1:02:38  ---

Topic 8: Books or Training Sessions Have Been Instrumental in Your Development?
Timing on Recording: @ 1:05:24  ---

Topic 9: What Are Some of Your Favorite Things That You Do; Mind, Body, Spirit? To Wake Up Eager?
The different people inside of me: James, Carl, Michael and Mikey.

The big key is to choose who drives the bus.
Timing on Recording: @ 1:15:53  ---

Topic 10: Getting to Know Michael Wilkinson.
Where did you grow up?: DC projects.

How did you get into the facilitation world?: Over a 14 year career moved from IT to running facilitation sessions.

   

What's your favorite guilty pleasure TV show?: Love Island.

What advice would you give your 25 year old self?: "Just believe you can and be fearless and don't be afraid of mistakes."

If you could put a billboard anywhere, what would it be?: So you'd see people inside of a company working on something, clearly being productive and laughing and really you see the energy, but you also see the results coming in this one picture and the words, "The secrets of facilitation, it works."

What would be your one last bit of wisdom or advice that you would like every listener, leader, person listening to this to think about and know in regard to taking a facilitation approach?: Secrets of facilitation, it works.

Also, ED = RD X CD. An effective decision equals the right decision times the commitment to the decision.
Contact info for Michael's company and his Michael's Book and websites: 
For training or to purchase an autographed copy of the book on the 8 core practices of a facilitative leader, check out their website www.leadstrat.com or if you're looking for Michael as a Keynote speaker, just go to www.michaelthefacilitator.com.  As a promo code, use 8COREPODCAST to receive a 10% discount through the end of October 2019. 
Books Mentioned in the Podcast:
PRICELESS RESOURCES
PODCAST: Subscribe to our Podcast or Help Us and Leave a Review 
NEWSLETTER: Sign up for Monthly Email Updates 
PODCAST: Most Recent Episodes      Directory of All Episodes 
RELATED DEVELOPMENT SERVICES:
·    Certification: Become the Expert: Assessment Certification Training
·    Hiring: Hiring: Secret to Superior Performance
·    Surveys: 360 Feedback and Organizational Surveys
·    Complimentary Consulting Call or Send Us Feedback: Contact Suzie