Dodge the Duds, Pick the Winners Workshop:
Best Practices, Strategies & The Best Employer Interview Questions

for Hiring Managers

What are the best employer interview questions and hiring tips? What's the secret to hiring superior performers? How do you dodge the duds and pick winners every time you hire and promote?
Reduce Turnover, Bad Attitudes and Low Performance

In this six-hour workshop, as you learn about steps in the Priceless: How to Hire Superior Performers Process, you will learn how to use tools like the Performance Dashboard and the Superior Performance Hiring Worksheet. 
This Process and these tools will help you: 1) avoid the top thirteen interview mistakes that most interviewers make and 2) reduce the risk when hiring and 3) increase your ability to accurately assess who's a superior performer and who's not.
This program has been approved for 6 PHR, SPHR and GPHR re-certification credits through the HR Certification Institute.* "The use of this seal is not an endorsement by the HR Certification Institute of the quality of the program. It means that this program has met the HR Certification Institute's criteria to be pre-approved for re-certification credit."
What Outcomes Can You Expect?
You will learn about the top mistakes and discover how to use specific solutions and tools for each.  After the program, you will be able to
Client Comments:

"Suzie, I needed this learning and growth opportunity around the hiring process. I do not want to hire any more people from hell. I am still living with some past errors that haunt me. These skills and this process will help me get the right people on 'the bus'. Thank you!"
Bill, Technology Senior Leader
"You are GREAT! You had a really tough act to follow (earlier instructors).  But you  hit it out of the park.  Your presentation skills and materials are the best.  The Evaluate Job Fit workshop was definitely enlightening and examining everyone's profile was right on the mark for better communication."
D.L. Assistant Director, an International Training Organization


"Thank you for your expertise, for your outstanding session and for helping us raise the bar on our interviewing skills." VP Human Resources, National Technology Firm
"The hiring process, employer interview questions and tools you share has made me a much better interviewer.  I am more prepared, I ask better questions and I'm making better decisions.  Knowing exactly how to focus on job fit - what you teach - has made a big difference.  I'll use these tools for years to com.Thank you!" T.M. -Technology Leader
"Thank you for making our training program so fun and educational! We are using the Performance Dashboard and Hiring Worksheet this week - and are so glad to have these tools to guide us to better hiring decisions."
J.K.- Manager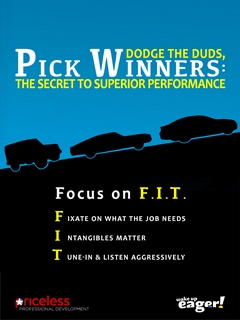 Blended Learning and Tools to Support Ongoing Development
Our standard program includes
Audience: Any Who Is Interviewing
This program is perfect for anyone on your team who is interviewing candidates.
The Priceless How to Hire Superior Performers Process: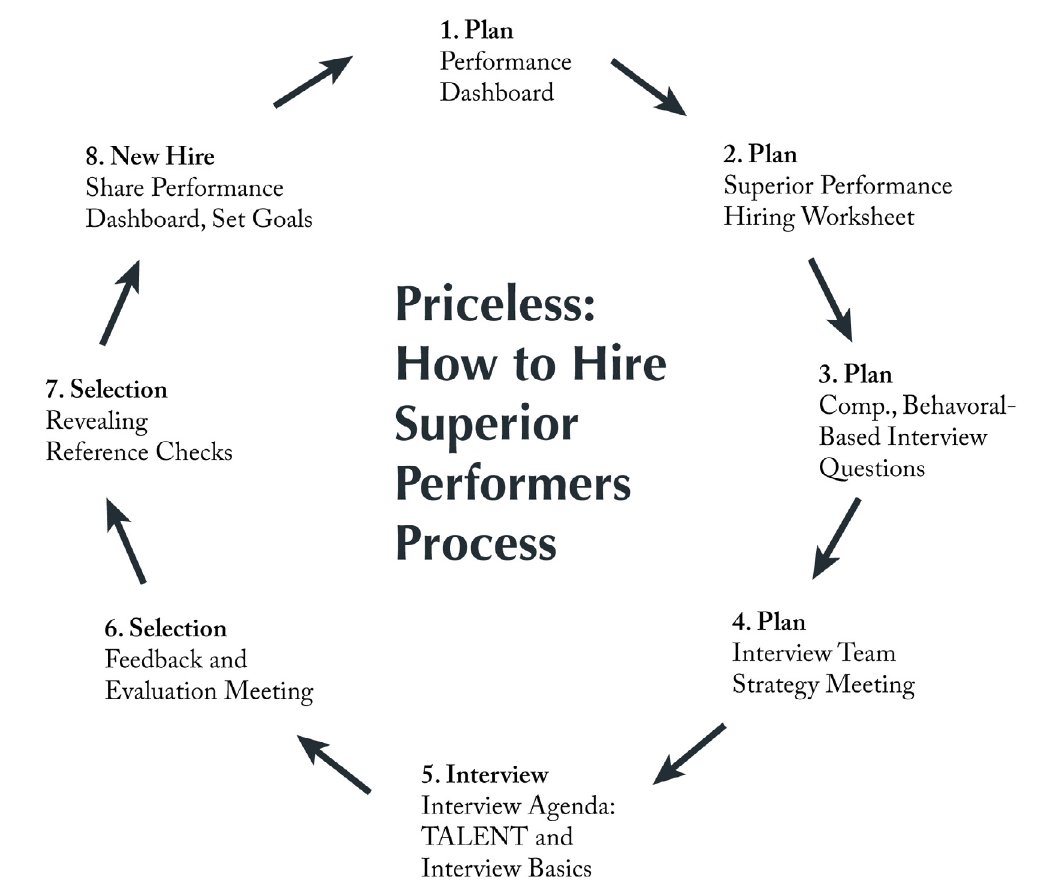 Short Talk or Full Day Workshop:

This Dodge the Duds, Pick Winners: The Secret to Superior Performance Program is available in two formats:

1) 20 Minute to 1-Hour Talk

2) One-Day (6 hour) Interactive Workshop 
What Clients Say...
"Suzie, I didn't want to let the Week go by without saying how much I appreciated your being here. I don't think there was a single person who did not greatly benefit from your "meaty" material. As I told you, just holding this group's attention on day three, and at the end of several grueling days of work, was not an easy task. "
"But they were engaged and participated far beyond my expectations. I truly believe it's due to your A+ delivery, easygoing (and humorous) nature and of course, the richness of the content. The feedback I got from everyone was excellent. Thank you for your expertise, for your outstanding session and for helping us raise the bar on our interviewing skills.  The employer interview questions you provided are a 'forever resource'. I hope to see you soon." VP, Human Resources, National Technology Firm


---
"I want you to know how much I appreciate your enthusiasm, your ability to change the program and flex to our changing needs. You are a joy to work with." K.M., Sales Manager, Fortune 50 Company

---
"Another exceptional program! You are terrific! The class absolutely adored your manner and class. Looking forward to our continued partnership in our courses and the other venues you have supported within our Company." G.W., Vice President-Personnel Development, International Aviation Company
Contact Me Here...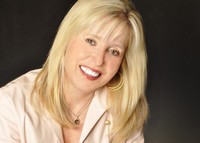 Read about my background and expertise, here.
To talk with me. call me at: 770-578-6976 or reach out using my: Online Contact Form.
Leave Employer Interview Questions & Hiring Tips Workshop,
Go to Employee Selection Assessments and Articles

Contact Suzie To Schedule a Complimentary Consulting Call or to Ask Questions

Priceless Professional Home