THANK YOU for Signing Up for My
120 Wake Up Eager Re-Calibrate Daily Tips
to Strengthen Your Health Wellness
Support Network & Habits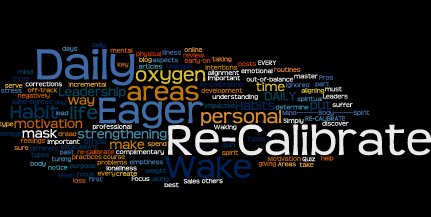 I can't wait for you to start reviewing these health & wellness support network tips as you read along in your book.
Your Tips Schedule, What You Get & When...

Your first Tip will arrive in your in-box on the first Monday after the day you signed up, and will continue to arrive, Monday through Friday, for 24 weeks.
Each week I rotate the focus around the key Re-Calibrate Habit Focus Areas:
Week 1: You get five (one-time-a-day) 1% Daily Action Tips focused on the Re-Calibrate Daily: Managing My Mind (using your strengths and being focused) Area.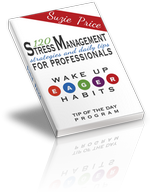 Thank You purchasing 120 Stress Management
Strategies and Dailys Tips for Professionals!  
Remember This...

** The 1% A Day Exponential Growth Principle:
Taking small Action every day leads to exponential (not linear) growth.

You can strengthen ANY Area of your life, by leaps and bounds, by focusing on that Area for less than 15 minutes a day (1%). And, in 70 days, you'll be twice as good. (You know, the concept of compound interest...right?)

Don't waste another day, begin applying The 1% A Day Exponential Growth Principle toward strengthening your Re-Calibrate Daily Wellness Support Network and Habits, right now.
Contact Us To Schedule a Complimentary Consulting Call or to Ask Questions
Suzie Note: Hey There, I want you to know that links on this website and in my newsletters
to other resources may, at times, be affiliate links where if you purchase something,
Priceless Professional will receive a financial thank you from the seller. I stand
by the recommendations of the products and people that I mention. For every product
I share with you there are many others I've chosen not to include.  Thanks, Suzie