Excessive Tiredness: How to Cure It and
Start Waking Up Eager
Excessive tiredness is no fun. If you're not sleeping fully and restfully there's no way you'll Wake Up Eager!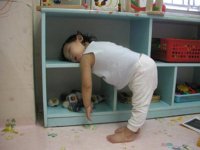 That's why this statement: "I sleep fully and restfully." is listed on the free Re-Calibrate Daily Wake Up Eager Habit Quiz.

Curing the causes of tiredness and sleeplessness is crucial to getting and staying motivated and inspired.
I went to the experts and found this: End of Tiredness Program a popular online eBook. I'll give you my Review of this Program letting you know if this program delivers or not.
I bought it, read it AND had my good friend Kim, who's been experiencing excessive tiredness lately, read it too. We'll both share our thoughts in this Review.
"Sleep is like the unicorn - it is rumored to exist, but I doubt I will see any."

My (and Friend - Kim's) Trial and Review of the
End Tiredness Program:

Both Kim and I read the eBook. (Kate is my sleep-deprived friend, who's often rubbing her sleepy eyes, much like this picture...) I wanted Kate's opinion here too, since she's really wants answers to her sleepless nights.
Here's a combination of what we liked about this Program. Bottom line: there's a lot of good stuff here. It help Kate change some of her Habits, and she's starting to sleep better. Yea! So, we have a lot of PRO'S to share with you, and only a few Cons.

Pro's:
The first thing I noticed about this book was that the text, layout and style of writing is very clear, friendly and easy to digest. (All

143 pages

-a nice sized resource.) The authors are obviously sleeping well because it is smart and credible in look, in feel and in content.
Kim commented that she'd never known that there are 5 Sleep Stages and that 2 of them are essential for our well-being. If we're out-of-step with our own rhythms around these 2 Stages, we'll still feel tired, even if we're sleeping a lot. The answer to excessive tiredness is quality of sleep not quantity. Interesting. This helped Kim focus on those most important Stages.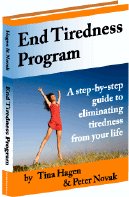 We both liked the practical step-by-step approach, the easy-to-complete worksheets and personalized plan approaches. The Worksheets helped Kim log and chart her sleep stages and cycles. She used this customized approach to determine and manage her patterns so she could can create her own personalized-to-her-needs sleeping plan. Very cool, and helpful.

They take a holistic approach by addressing other lifestyle habits that are causes of sleeplessness. The authors provide numerous and solid ideas and solutions. I particularly liked the three relaxation techniques they share to combat excessive tiredness. Good step-by-step instructions to make the techniques easy to use and effective.

And you know, I really liked the 'Your Perfect Morning and creating a Morning Plan Sections' around being more mindful as we start every day is smart.
"Stress-free and enjoyable mornings will have a significant effect on the level of tiredness you feel in the morning as well as during the day."
End Tiredness Program Creators: Tina Hagen and Peter Novak

They also provide a thorough discussion and recommendations on

nutrition and dehydration

. (Something I personally have found are crucial to feeling good & sleeping good, and are things I write about here on my Blog, quite a bit.) Key aspects for better self care. They offer great reminders and practical, do-able tips/actions.
As mentioned early in this Article, we don't have much in the Con department for our Review. (I guess we'd not take time to review it here if we didn't think it was good.) Here are a few neg-o's:
Con's:
They offer two 'free' ebooks with your purchase - Jet lag and Shift Work. They are "okay", but are not as meaty as the main book, and not really all that important to Kim and I. So don't buy the main book for these two.
I guess this is not really a Con about the Program, it's just I see as a Con cause I often see this as a problem: This stuff only works if you do it. We all often have good intentions, but sometimes we don't do something with good material like this. That's not a slam on the Book/Program, it's just a reality of being human. So unless you're willing to read this AND then implement some of the suggestions, it won't be helpful.
"Sleep is the best meditation." Dalai Lama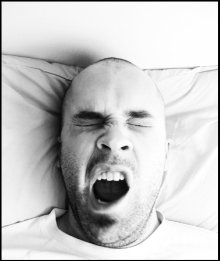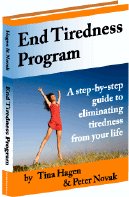 Kim and I agree: the ideas in this 143-page eBook: The End Tiredness Program are practical, do-able and are helping Kim get better sleep.
The Authors provide real, researched-based techniques that were new to both Kim and I. This is definitely NOT a fluff book. These people know what they're talking about. They bring clear, concise AND leading-edge information to anyone struggling with Excessive Tiredness..
Kim and I both agree, if implemented, this eBook/Program could help you eliminate excessive tiredness from your life. (Thank you Kim for helping me with this Review!)
Leave This Excessive Tiredness Page,
Go To the Re-Calbrate Daily Managing My Body Page

LET'S TALK:
Contact us to schedule a Complimentary Consulting Call
or to ask questions about any of our Hiring,
Coaching, Training and Assessment services.