Building Self Confidence & Professional Presence
How to Get More of Both
A Wake Up Eager Interview
7 out of 10 The "Re-Calibrate Daily" Free Quiz results reveal that building self confidence and sustaining it with all the pressures of work, can be a challenge.
With this need in mind, I've been looking for a credible, practical, personable and business-minded professional to share helpful building self confidence tips and insights with you.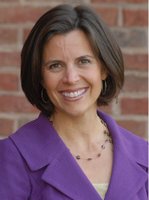 That's exactly what I found in Lori Barber, President of Elements Image Consulting.
Here's a little background on Lori, plus information about the building self confidence and professional presence work she does:
Lori provides personalized image management and professional presence consultations and is a successful presenter and coach in corporate workshops and seminars.

Lori is certified in professional development, personal branding and image management, including color, style and wardrobe analysis, with the internationally renowned London Image Institute.

She is a member of the Association of Image Consultants International (AICI) and serves on the board of the Atlanta Chapter of AICI.
Here's my interview with Lori:
Suzie: Lori, thank you so much for taking time to share your expertise in building self confidence and professional presence here at WakeUpEager.com!
First, please tell folks what you're passionate about in your work, along with what you do and why you do it.
Lori: I am passionate about helping people discover their personal style, build confidence and achieve greater success.
I believe that if we present ourselves to the world in a manner that is consistent with our goals, talents & skills, dreams & visions and our personality, we will be more confident, and more open to receiving success. I help people discover and present their personal & unique style to the world.
I really enjoy helping others as they are building self confidence and a stronger professional presence. I love seeing people in their ideal outfit - and seeing confidence shine through their face.

Building Self Confidence and Professional Presence Insights:
"Style is a personal trait that comes from knowing who you are and what you want to express to the world. Your style should express your skills, talents, goals, values and visions in your external appearance and body language."
---Lori Barber, Elements Image Consulting
Suzie: So we can all know more about you personally, tell us about a hobby or interest that you have, outside of your image consulting work.
Lori: I love to cook! I try new recipes all the time - and have been experimenting lately with vegetarian cooking (that the whole family will enjoy.)
I recently made cauliflower au gratin - fantastic! Roasted Beet salad (I love beets!) and zucchini potato casserole (yum!) I make a fabulous homemade minestrone soup.


Suzie: Okay, that's great and sounds yummy. So you won't mind if Jeff and I come over for dinner next Tuesday, right? And, quickly before you can say turn down my self-invite, let's get into my next building self confidence and professional presence question...
Which is: Why did you get in the business of image consulting? What prompted you to become an expert in this area?
Lori: Suzie, you and Jeff can come on over for dinner any time!
And to your question @ my image consulting business...I worked in the corporate world (for Fortune 100 companies Westinghouse Electric Corporation and MCI/WorldCom - UUNet) for 12 years prior to starting my family.
I believe that my professional presence, business etiquette and communication skills contributed to my success. I wanted to help people find their best visual image, professional style and personal brand.

More Building Self Confidence
and Professional Presence Insights
"Confidence is a belief in oneself and one's abilities. It is a crucial factor in succeeding in your personal and professional goals.

Knowing who you are and representing yourself from the inside out will lead to an increase in self-confidence and self-esteem."
---Lori Barber, Elements Image
Suzie: What are 3 ways to increase our credibility and authority at work?
Lori: Credibility is the power to inspire belief in someone: if someone is well-dressed, confident and well-spoken, we tend to believe what they say and they inspire us.
Increase credibility by updating and improving style, colors, coordination, grooming, and fit. Update your appearance - new glasses, professional hairstyle, new suit or jacket, dress shirts, colors.
A suit is the most credible and authoritative outfit. With this in mind, use at least 3 layers (Pants or skirt, dress shirt or blouse AND a tailored blazer, sports coat, jacket, sweater sets or cardigan) when you want to convey authority, power, credibility or business elegance.


Suzie: What are the top 3 image credibility robbers??
Lori:
Dated look (outdated)

This is the number one credibility robber that I see on a daily basis. You can shave 10 years off of your look by following these tips:
Update suits and jackets every 3-5 years. Large shoulder pads, outdated buttons and length of jacket can really date you;
Ladies, check your hemlines. A good rule of thumb is at or just above the knee.
Men: update your staples by trying a wide-spread or point collar (ban the button down collar collegiate look for awhile). Update your shoes to a classic wing tip or loafer with high shine and no thick sole.
Bad Fit (too loose, too tight)
Get comfortable with a great alterations person and realize that most business clothes will have to be tailored to get a great fit. Always fit the widest part of your body, and tailor down for an impeccable, custom fit.
Grooming
Pay attention to your hair care, skin care, teeth, hands, nails and glasses. These are small details that can positively (or negatively) affect your overall appearance and credibility.
The Importance of Building Self Confidence:
"Research shows that people respond better to people who have a positive self-image. These people are paid more, win more jobs in the marketplace, achieve their personal and professional goals and are more successful. "
---Lori Barber, Elements Image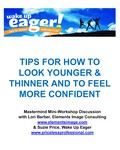 FREE MP3 & WORKBOOK FOR BUILDING MORE SELF CONFIDENCE:

Are you interested in building more self confidence
and in projecting more credibility and strength at work?

Would you like to look thinner, younger and feel more confident when walking into ANY room, ANY time?

In this mini-workshop you get the best tips for building self confidence. These tips will help you update your image and gain more confidence right away.
Tips for How to Look Thinner,
Younger and Feel More Confident Workshop


Work at your own pace. Immediate access. Did I mention that it's free?
Click here to check it out.
Suzie:Which one of the 10 Wake Up Eager Mindset Essentials is your #1? And would you add anything to our list?
Lori: #3:'Every Moment Brings an Opportunity to Make More Decisions'
I tend to be very hard on myself when I make mistakes. I am trying to do a better job of not judging myself or having regrets.
Every decision, whether right or wrong, is an opportunity to learn and grow - and, we can always change our minds and make a new decision.

Suzie: What do you think is the biggest obstacle for us all loving our lives, ourselves and waking up eager more often?
Lori: I believe that the best path to happiness is knowing ourselves and showing up every day as our genuine self.
A big obstacle is comparing ourselves to others and evaluating our self as either better than or not good enough. Having a wardrobe that you feel great about can really build your confidence and self-esteem.


Suzie: What things do you personally do in the search for staying energized, focused and interested in your work?
Lori: I am beginning a new daily practice of journaling. It reminds me of little aha moments and joys throughout the day.
I also love to exercise - either hiking Kennesaw Mountain, walking my dog around the block or a great yoga class called Body Flow.
I am always energized by the wonderful people that I meet in my business, and my inspiring clients.


Suzie: Lori, thank you for sharing your time and talents with the Wake Up Eager community! Let's let people know how they can contact you and find out more about your services.
Lori: Thank you for allowing me to share my passion and my path.
You can sign up for my free monthly e-newsletter for tips on style, confidence and success at: www. elementsimage.com


Get the free Wake Up Eager Audio MP3 and Workbook:Tips for How to Look Thinner, Younger and Feel More Confident Workshop, HERE.
For more Building Self Confidence Tools and Resources, Go To Managing My Body: Daily Motivation Directory Page
More Building Self Confidence resources are added often. click the bright green feed button, above and to your left, to be notified of updates.
I also publish a monthly e-newsletter with updates, announcements for free resources and additional insights for improving motivation in the workplace. Click here to subscribe:

We value our connection with our subscribers.
We never share your information with anyone.
We also make unsubscribing easy and immediate.
Like the site? Have suggestions or ideas? Contact Suzie here.
Priceless Professional Home