Train the Trainer Sales Training Material:
Customer Oriented Selling
(Published by Vital Learning)
The sales training material found in Customer-Oriented Selling (COS) is a comprehensive and flexible train-the-trainer sales development program.
This program is: a philosophy, a process and a skill-builder.
The philosophy is simple, yet effective: focus on the customer and help the customer to make intelligent buying decisions!
The process is complete: from pre-call planning, through the four phases of the sales cycle, to post call planning a proven process that creates positive action and commitment each step of the way!
COS sales training material is a logical, non-manipulative approach that works. The course develops proven selling skills while teaching salespeople to be responsive and strategic consultative individuals who focus on helping customers achieve their business objectives with your products or services.
In short, Customer-Oriented Selling (COS) offers a route to more satisfied customers, a more successful sales team, and better long-term business relationships. COS is designed for:
New and Experienced Salespeople
Sales Managers
Marketing Personnel
COS Delivery Options include the flexibility of one-, two-, and three-day implementation options which allow you to tailor the delivery to your specific audience.
"Most people think 'selling' is the same as 'talking'. But the most effective salespeople know that listening is the most important part of their job." Roy Bartell
COS Sales Training Materials Include:
Each interactive workshop, of 6-18 participants, includes:
video modeling and vignettes
relevant skill practices and exercises
immediate feedback on techniques
group discussions and activities
each participant finishes with a solid sales plan for a targeted customer.
PLUS, Participants use YOUR organization's actual products and services when discussing and practicing the course's concepts and skills so they aren't practicing how to sell 'widgets' and then struggling to figure out how to apply that when back in the real world.
Easy Training Delivery With YOUR Trainers!
You receive a comprehensive Administrator's Kit that includes everything you need to facilitate this course.
Each Facilitator Guide Includes:
Facilitator Resource DVD that contains forms, explanatory step-by-step text & narrative for your trainers that coincides with the Participant Workbook and around every aspect of the program
Done-for-you-ready-to-use PowerPoint,
Facilitator presentations, readings and skill modeling
Video modeling
Group discussions and problem-solving exercises
Extensive application of the skills and concepts to your sales environment
Multiple pair practices, table group, and role play exercises built around your products or services
Immediate feedback and critique of the participants' use of the skills and techniques
Video vignettes of real world comments and tips from successful salespeople in various industries
Support is also provided to both facilitator and participant alike through Training Publisher, Vital Learning's, exclusive website. This COS-Support Website contains: downloadable, interactive forms, assessments, trainer tips, certificates of completion, and much more, all designed to enhance and reinforce the learning experience.
"The greatest sale you'll ever make is selling the right, privilege, honor and respect to meet with that person again." Mark Hunter
COS Sales Training Materials Overview PDF
and a Sample Video: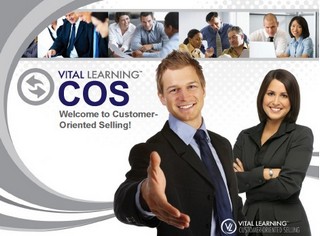 Click the image or here to download and review a short COS Sales Training Material Overview PDF. 
Also, review one of the eight videos that are provided in the COS Facilitator's Manual, which is  a complete, done for you, step-by-step Guide to help your Trainers successfully teach this Program:
After Completing COS Learners Will Be Able To:
Describe and target prospects and customers
Conduct sales calls using a proven four phase customer focused sales process
Identify situation factors that impact buying decisions and the objectives customers need to achieve
Learn to determine the customer's objectives and situation factors
Understand and use the key customer-focused communication skills
Carry out precall planning and each of the four customer-oriented call phases
Develop a recommendation and support it with an Objective-Benefit-Feature chart that meets the customer's objectives
Prepare for and learn from each sales call through pre- and post-call analysis
Make each sales call a resource for the next sales call
Effectively handle obstacles without feeling uncomfortable or adversarial
Use this Form to Contact Me (Suzie Price) or Call Me Right Now, At: 770-578-6976

Leave This Sales Training Material Page, Go To My Main Product Page

Contact Suzie To Schedule a Complimentary Consulting Call or to Ask Questions

Priceless Professional Home